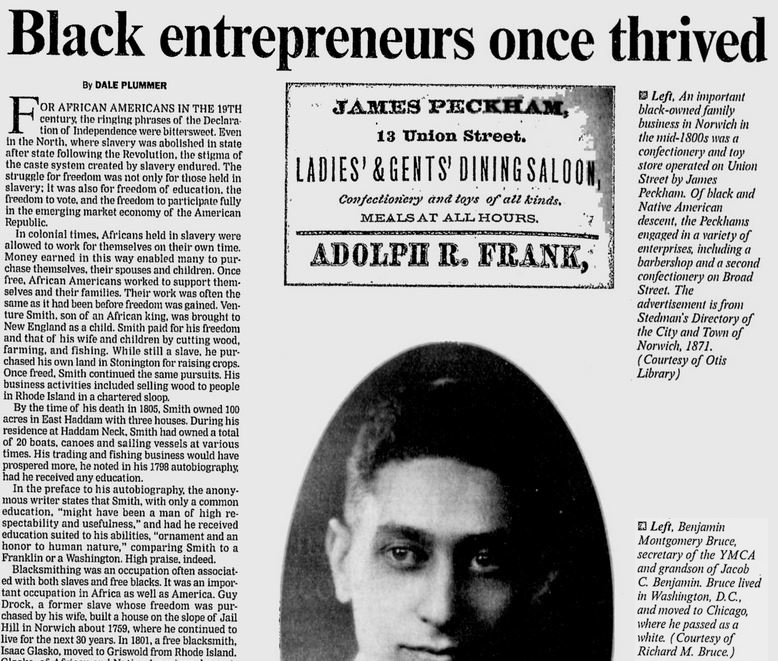 Broad Street in 19th century Norwich, Connecticut, revealed the sweet successes and entrepreneurial grit of African-American and Native-American locals the Peckham family. Below is text from a story by Dale Plummer on African-American entrepreneurship for The Day newspaper in October 1999:
An important black-owned family business in Norwich in the mid-1800s was a confectionery and toy store operated on Union Street by James Peckham. Of black and Native American descent, the Peckhams engaged in a variety of enterprises, including a barbershop and a second confectionery on Broad Street. The advertisement is from Stedman's Directory of the City and Town of Norwich, 1871. (Courtesy of Otis Library)
For African-Americans in the 19th century, the ringing phrases of the Declaration of Independence were bittersweet. Even in the North, where slavery was abolished in state after state following the Revolution, the stigma of the caste system created by slavery endured. The struggle for freedom was not only for those held in slavery; it was also for freedom of education, the freedom to vote, and the freedom to participate fully in the emerging market economy of the American Republic.
In colonial times, Africans held in slavery were allowed to work for themselves on their own time. Money earned in this way enabled many to purchase themselves, their spouses and children. Once free, African-Americans worked to support themselves and their families. Their work was often the same as it had been before freedom was gained. Venture Smith, son of an African king, was brought to New England as a child. Smith paid for his freedom and that of his wife and children by cutting wood, farming, and fishing. While still a slave, he purchased his own land in Stonington for raising crops. Once freed, Smith continued the same pursuits. His business activities included selling wood to people in Rhode Island in a chartered sloop.
By the time of his death in 1805, Smith owned 100 acres in East Haddam with three houses. During his residence at Haddam Neck, Smith had owned a total of 20 boats, canoes and sailing vessels at various times. His trading and fishing business would have prospered more, he noted in his 1798 autobiography, had he received any education.
In the preface to his autobiography, the anonymous writer states that Smith, with only a common education, "might have been a man of high respectability and usefulness," and had he received education suited to his abilities, "ornament and an honor to human nature," comparing Smith to a Franklin or a Washington. High praise, indeed.
Click here to read the full article!