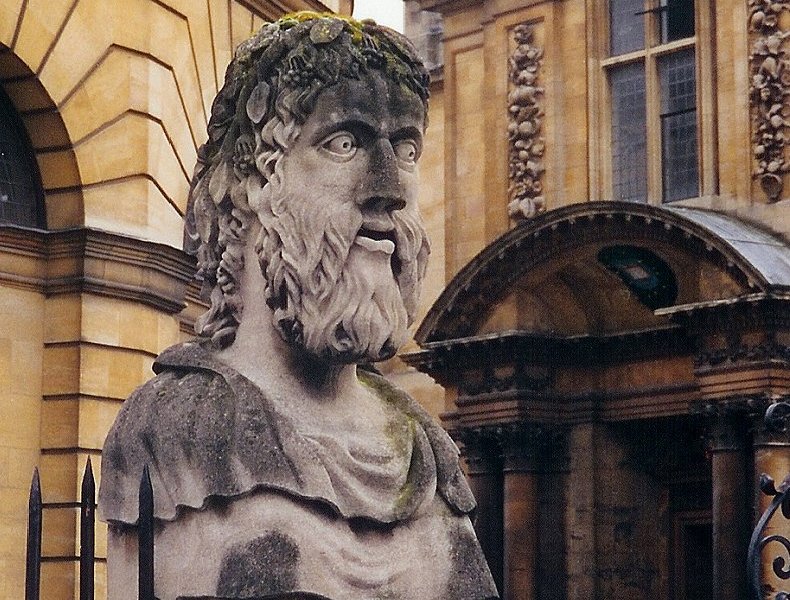 "Here in Oxford, exposed eternally and inexorably to wind and frost, to the four winds that lash them and the rains that wear them away, they are expiating, in effigy, the abominations of their pride and cruelty and lust. Who were lechers, they are without bodies; who were tyrants, they are crowned never but with crowns of snow; who made themselves even with the gods, they are by American visitors frequently mistaken for the Twelve Apostles."
—Max Beerbohm, Zuleika Dobson
 Called by various names including herms (officially), termains, philosophers, and beard bearers, the thirteen heads before the Sheldonian Theatre (and the Museum of the History of Science nearby) found their current homes facing Broad Street in Oxford in the early 1970s thanks to the efforts of Michael Black. However, the original herms originated 300 years prior,  with each modeling a unique style of muttonchops. They remain anonymous, however, as they were either designed to be so, or as such identifying information has been lost with time.
With Oxford's Broad Street collecting the footsteps of university graduates — the Sheldonian serving as the site of the liminal ceremony — stone guardians like the thirteen herms have sunk into the background of the busy streetscape.
However, in the 2000s activists began using the busts in public statements. Author and artist Roma Tearne bound the emperors' stony eyes in 2007 to provoke conversation about public art. The exhibit, titled "Visions," sought to bring "the public to look at these statues in a different way," Tearne said to The Oxford Times.
"For years, people have been walking past them and not really noticing them, but now they will look at them in a different way after seeing them blindfolded."
—Roma Tearne

Less than two years later, Oxford University students brought the bearded boundary markers into a protest against a new immigration center's methods of "silencing" detainees. For ten minutes, the herms wore gags made from red bedsheets before police intervened, reported the Bicester Advertiser.  
"The red gags symbolise the way that detainees are not being given a proper opportunity to put their case. … We had no intention of damaging these historic statues — this was a purely symbolic protest."

—Aisha Mirza

Additionally, as Taunt & Co. wrote above: "The Heads round the Theatre number Thirteen and represent Sages of Antiquity, but are jokingly said to be the Twelve Caesars, with an extra one who pushed himself in, and is laughing at the idea that the has stolen a march on the rest." Whether the stony chuckles are meant to mock or to mend, e.e. cummings reminds us that "the most wasted of all days is one without laughter."
Representing the value of art, the need for justice, and the importance of laughter, the Emperors might continue to leave a mark on Broad Street as people pause to reflect on their history and possibility.
But even as this truth reverberates for Broad Street travelers, we can't help but chuckle at the 13 different representations of the ever-changing world of whiskers.