"Start with the head. The way a cat consumes a squirrel …"
National Poetry, National Airport …  We bid the month farewell with an iconoclastic glance at Reagan National Airport, courtesy of Richard Peabody. You can print out the broadside below, or scroll down and read the text in plain format. "Yankee Doodle Fantasy" was part of our "Maps and Legends" issue.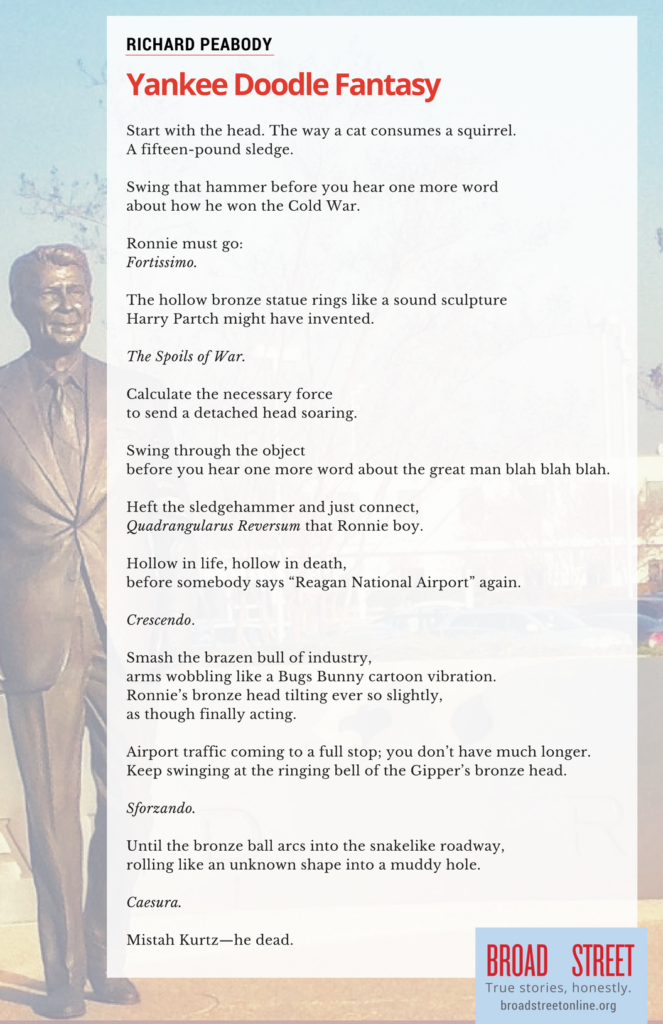 Yankee Doodle Fantasy
Richard Peabody
Start with the head. The way a cat consumes a squirrel.
A fifteen-pound sledge.
Swing that hammer before you hear one more word
about how he won the Cold War.
Ronnie must go:
Fortissimo.
The hollow bronze statue rings like a sound sculpture
Harry Partch might have invented.
The Spoils of War.
Calculate the necessary force
to send a detached head soaring.
Swing through the object
before you hear one more word about the great man blah blah blah.
Heft the sledgehammer and just connect,
Quadrangularus Reversum that Ronnie boy.
Hollow in life, hollow in death,
before somebody says "Reagan National Airport" again.
Crescendo.
Smash the brazen bull of industry,
arms wobbling like a Bugs Bunny cartoon vibration.
Ronnie's bronze head tilting ever so slightly,
as though finally acting.
Airport traffic coming to a full stop; you don't have much longer.
Keep swinging at the ringing bell of the Gipper's bronze head.
Sforzando.
Until the bronze ball arcs into the snakelike roadway,
rolling like an unknown shape into a muddy hole.
Caesura.
Mistah Kurtz—he dead.
**************************************************************************************************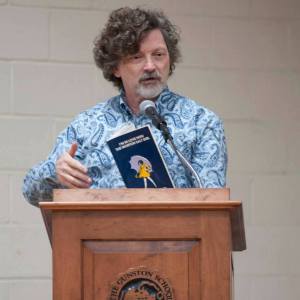 Richard Peabody is an author, publisher, teacher, and man about the literary town. His own poetry and prose have been widely anthologized; his books range from I'm in Love with the Morton Salt Girl to The Richard Peabody Reader. He's also founder and editor of Gargoyle magazine, which has been publishing experimental and otherwise offbeat literature for forty years, and the editor (with Lucinda Ebersole) of the popular Mondo Barbie and Mondo Elvis anthologies. His Paycock Press also publishes works by individual authors.

True stories, honestly.