"The excitement I feel when I walk by a shimmering glass mosaic … when the light changes, the feeling changes — it's living glass. It's beautiful, and one of the most satisfying materials to work with."
Erica Hoverter  became a mosaic artist in 2002, after a back injury put her previous career in physical therapy on hold. She decided to follow her true passion, fine art — which she largely taught herself, with a stint at Berkeley's now-defunct Institute of Mosaic Art.
     Once Erica started producing, her work caught on. She has been featured in numerous shows of fine art at The Wooden Cow Gallery, Slidell Art Gallery, and The Fine Art exhibit at Expo New Mexico.
     She has never looked back.
     But if we could look back for a moment …  We'd note that mosaic is one of the oldest and most revered art forms, finding a home in Roman villas and bathhouses [as well as houses of, ahem, another sort in Pompeii], and in religious buildings from Istanbul's Agya Sofya and Blue Mosque to Venice's glittering Saint Mark's Basilica. It's a form almost as old as art itself — perhaps a deep expression of pleasure in visual texture and form. Even octopuses make mosaics when they arrange "gardens" of found objects around their lairs.
     Erica's public agrees. She also has a thriving business working on commission and has installed many projects in various cities of her native New Mexico. From a special corner of a private home to a grand work of public art, she has hunted, gathered, and made permanent a magical play of light through assorted materials, including (but not limited to) more kinds of glass than we knew existed. Her architectural installations have been featured in Su Casa magazine.
     Some of Erica's commissions have extremely high visibility, as in the massive monument shown here.
     In 2011, Erica was chosen to create public art for the Unser Boulevard corridor, which is an entry into Rio Rancho, New Mexico's third largest city. Artists from across New Mexico submitted designs, but Erica won the day with spectacular designs that now cover both sides of three massive monuments, and both sides of a 400-foot retaining wall.
     The project's mosaics totaled 38 panels depicting playful abstractions of endangered, threatened, and more tenacious plant and animal species of Sandoval County, NM.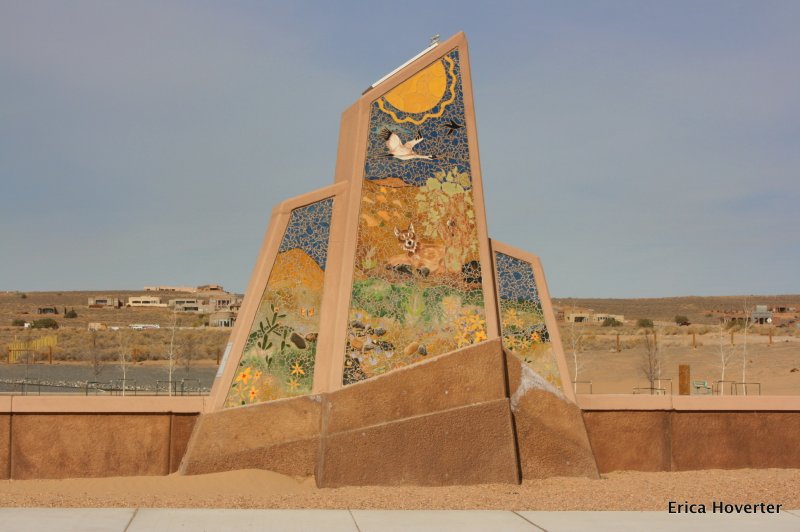 A wider view of the monument.
     We first contacted Erica in connection with our Issue 1.2, "Hunt, Gather." We were curious about her process of collecting objects and assembling them into a cohesive image, so we asked her to tell us about her process from initial commission to inspiration and final, glittering installation. What follows are Erica's remarks excerpted from that interview.
     This feature was updated in June 2018, in connection with our "Small Things, Partial Cures" issue. It can be found in slightly different format on Medium.
On the Power of Mosaics
Erica: The excitement I feel when I walk by a shimmering glass mosaic … when the light changes, the feeling changes — it's living glass. It's beautiful, and one of the most satisfying materials to work with.
     I create wall treatments from broken window glass that would otherwise end up in a landfill, and I am always amazed at the depth, ever-changing reflective quality, and luminosity of the glass.
On Becoming an Artist
My transition from a fifteen-year career as a physical therapy technician, natural therapeutic specialist, and certified neuromuscular therapist occurred when I ruptured a disc in my back and had to have surgery: "Time to go after what I really love — art!"
     It was my original passion and now was finally  time to seize it. [The injury] turned out to be the best thing that ever happened to me, because I enjoy making people happy with art!
     I am now also a Certified Zentangle Teacher, teaching a relaxing and meditative art form to Wounded Warriors. I feel it will be a powerful tool for veterans to help combat PTSD.
On Commissions
When first meeting a potential client, I "lock on" to their design needs, ideas, and desires from what they express to me. What transpires from there is also an art, in and of itself.
     The client may have some solid design ideas already, so I follow closely and we build a design direction together. I will create multiple samples for the client to consider, and a maquette when called for. There are also clients that give me "carte blanche" and are thrilled with the resulting installation, without any input. I enjoy working in either fashion.
     When I know that a client of mine comes home from work to admire a commissioned installation from me, I know I've done my job: creating a bit of visual, emotional, and tactile happiness.
     It fuels my soul.
Upcycling, Recyling, Enduring: On Materials and Process
A great deal of my work is created with recycled glass. I may use a car window from the junkyard, or I might find an old shower door from a construction materials shop.
     In addition to using recycled glass, I also hand-build clay tiles and incorporate stained glass into my mosaics.
     The key for a successful, long-lasting installation — whether indoors or outdoors — is to use a high-fire clay for durability and to seal the grout to protect the mosaic from water penetration.
      Grouting a glass mosaic becomes a delicious dessert, as I see the finished piece "ready to eat."
     When it comes to "chance of play" in my process, I add a special touch where I see fit. I add pieces that I have collected, that I knew had a special place somewhere, not knowing where, until they presented themselves. For instance, I met an artist that collected some of the exquisite glass cabochons that were blown out of church windows from a church that was near the Federal Building in Oklahoma in 1995 when it was bombed. I have respectfully placed these pieces of history in commissions that were fitting.
     There are some things out of my control, especially with a public art installation. Thankfully no one has vandalized the work, but it's always a possibility. I keep track of the work with visual inspections to make sure it's holding up as well as can be expected.
On Public Art: Into the Forum
Some mosaics are just too grand to be confined to small projects and domestic spaces. Erica has brought the time-honored form of the public mosaic into the twenty-first century with her "Gateway into Rio Rancho" (see above) and her participation in a grand installation for the Placitas Recycling Center (below).
     Erica: This is a public art project off of the Bernalillo/Placitas exit and I-25 at the Placitas Recycling Center. I created the cougar, stained glass pine needles, orange and yellow flowering plants, rock outcropping under the cougar, red stained glass border and edging. I also grouted the same work mentioned, installed the tree branches, and made composition suggestions.
     So many wonderful artists made contributions to the mural, which is one of several proposed panels depicting the wildlife and plants of New Mexico. "Protect our Wildlife Corridors" is a campaign that was created to raise awareness of our wildlife's natural travel routes. Protection of these corridors enables cougars, bears, coyote, and other animals to move more freely and decrease the risk of injury or death by means other than natural causes, such as off-road vehicles and new construction.
The Editors: Thank you, Erica! Now perhaps it's fitting to end with your "Solstice Patio," a set of five large panels installed in a private residence. It's gorgeous — and would certainly be admired by the ancient Pompeiians!
"Solstice Patio" was composed with ceramic tiles, alabaster, stones, and fused glass. Each full panel is 3 x 5 feet.