BROAD STREET  invites to you to a long-ago swimming hole, before a terrible accident and a devastating flood, during an era when girls still drank Tab.
To enjoy "Goshen Pass" as a broadside, click and drag to your desktop. Or scroll down to read the poem in plain text.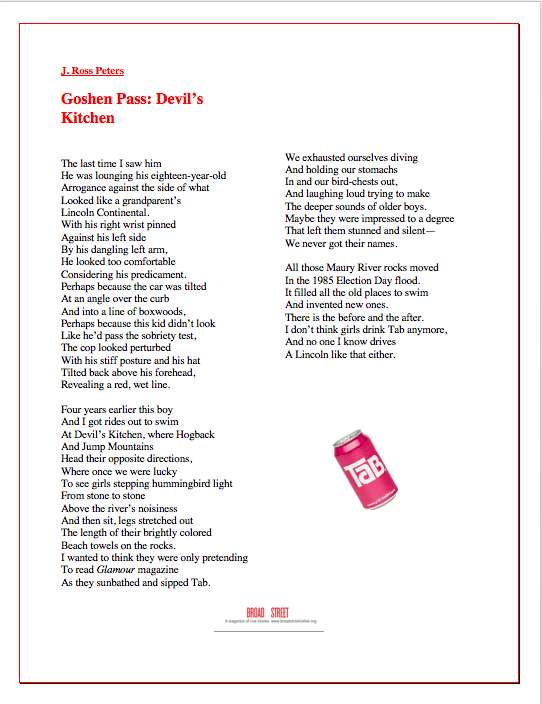 J. Ross Peters
Goshen Pass: Devil's Kitchen  
The last time I saw him
He was lounging his eighteen-year-old
Arrogance against the side of what
Looked like a grandparent's
Lincoln Continental.
With his right wrist pinned
Against his left side
By his dangling left arm,
He looked too comfortable
Considering his predicament.
Perhaps because the car was tilted
At an angle over the curb
And into a line of boxwoods,
Perhaps because this kid didn't look
Like he'd pass the sobriety test,
The cop looked perturbed
With his stiff posture and his hat
Tilted back above his forehead,
Revealing a red, wet line.
Four years earlier this boy
And I got rides out to swim
At Devil's Kitchen, where Hogback
And Jump Mountains
Head their opposite directions,
Where once we were lucky
To see girls stepping hummingbird light
From stone to stone
Above the river's noisiness
And then sit, legs stretched out
The length of their brightly colored
Beach towels on the rocks.
I wanted to think they were only pretending
To read Glamour magazine
As they sunbathed and sipped Tab.
We exhausted ourselves diving
And holding our stomachs
In and our bird-chests out,
And laughing loud trying to make
The deeper sounds of older boys.
Maybe they were impressed to a degree
That left them stunned and silent—
We never got their names.
All those Maury River rocks moved
In the 1985 Election Day flood.
It filled all the old places to swim
And invented new ones.
There is the before and the after.
I don't think girls drink Tab anymore,
And no one I know drives
A Lincoln like that either.
*************************************************************************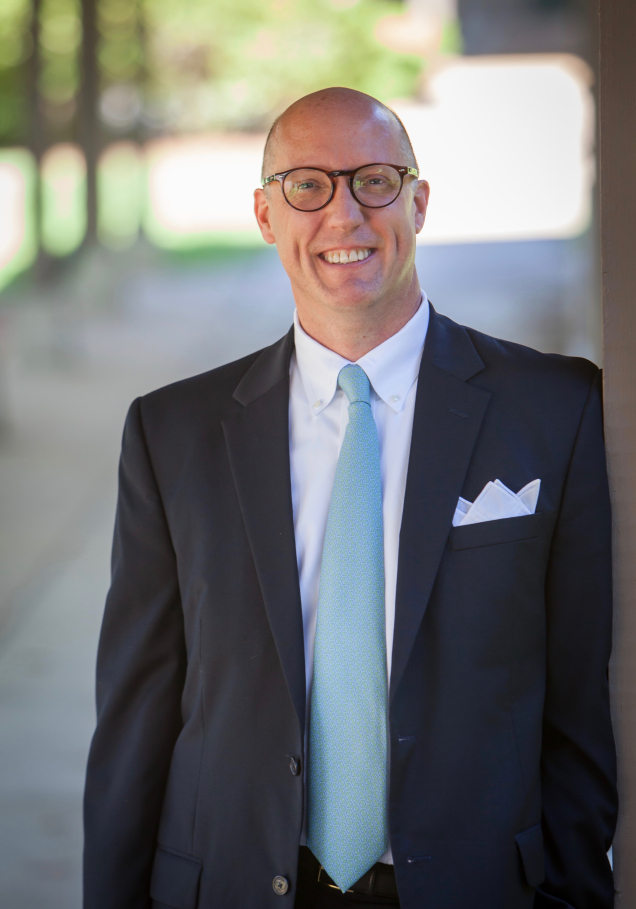 J. Ross Peters's poems have appeared in Terminus and The Birmingham Poetry Review. Other work is forthcoming in Aethlon and Broad River Review (Honorable Mention for the Rash Prize). He is collecting poems for a book to be entitled The Flood is Not the River. Additionally, he contributed the forward and the photography for Sacred Views of St. Francis: The Sacro Monte di Orta (forthcoming from Punctum Press in 2019), about a Franciscan pilgrimage site in Italy's Piedmont region.