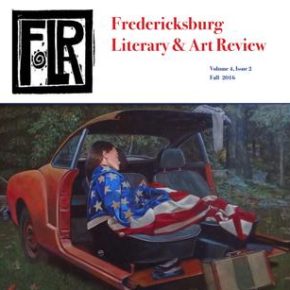 Ever wonder what goes into producing a print magazine and keeping it in the public eye during the internet age?  How about the ways a website and a print organ can support each other? So glad you asked!  And glad, too, that A. E. Bayne of  Fredericksburg Literary and Art Review sat down for a chat about...
It's a new year, perhaps a fraught year, but one that is bringing good things to us at Broad Street. For one thing, we have added illustrious members to our editorial staff:  Gretchen Comba (read her "Truth Teller Spotlight"), Katy Resch George, and Siddiqah Mujahid.  Welcome to them! And we're thrilled to be working on...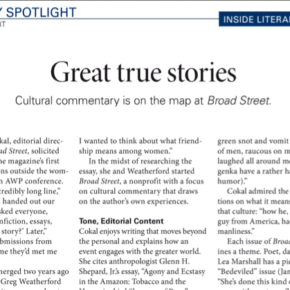 A dispatch from the Shameless Promotion Department: The March issue of The Writer includes a detailed conversation with Broad Street Editorial Director Susann Cokal about the magazine, its editorial direction and philosophy, and some terrific words about contributors and the upcoming Bedeviled issue. Check it out on newsstands now!