"Costume design is the one thing that audiences tend to read personally … whether we should like this person, whether we should be scared of them, that sort of thing."
"Our Crazy Beautiful Poetic World"
Paloma Young won a Tony Award for the Broadway production of Peter and the Starcatcher in 2012. For our "Hunt, Gather" issue, she and associate editor Matthew Phipps discussed her design process, her inspiration, and (of course) her budget. At the time, she was working on a production of The Tempest. Currently, Young is designing costumes for a new staging of Natasha, Pierre and the Great Comet of 1812, starring Josh Groban, which will go on Broadway in October 2016.
Read the complete interview here or, if you like to click around, find it on Medium: Paloma Young interview.
Watch her accept the 2012 Tony here.
UPDATE, 2017: Paloma was nominated for another Tony this year, for Natasha, Pierre and the Great Comet of 1812 (that would be the one starring Josh Groban). She didn't bring the statue home this time, but she's always a winner in our hearts!
Take a look at how she stocked her pockets for the ceremony here.
BROAD STREET: What is the significance of costume design to you – and to a play's audience?
YOUNG: I find that, as far as design goes, costume design is the one thing that audiences tend to read more personally than, say, set design or lighting design. And what I mean by that is, costumes are things that touch the body. When you see someone in a pleather suit, you know what that feels like and your brain processes the texture on your body, and that tells you something about that character in a more visceral, physical way than just having a wall that's made out of shiny Plexiglass. Same thing with a nice soft cashmere knit sweater: You can feel that when you see it on a character. Texture is something I use all the time to talk about character, and whether we should like this person, whether we should be scared of them, that sort of thing.
BROAD STREET: Can you walk us through the process of coming up with the costume design for a production?
YOUNG: First thing I do is read the script. I write out the characters, and I write out things that I know about the characters based on what I'm reading – or things that I think about them, or things that I imagine are part of their history. For example, I would say, "This character is the type of person that goes bowling on the weekends with her girlfriends." Which is not in the script at all, but is based on the way she talks to other people, and that will help me figure out and say, "This person shops at T. J. Maxx." Or, "This guy has never shopped for himself and still wears the clothes his mom bought him when he was an undergrad at college in 1973." That's a common approach for naturalistic plays but can also be used to ground characters in a non-naturalistic fantastic piece.
I'm not faithful to period at all in any of my work, but most people don't notice that. The show I'm working on right now is a version of The Tempest, set in a real period, the thirties and forties, but in a sort of magical Shakespearean world that crosses over periods and is not really concerned with a real place. It's scored by the music of Tom Waits. Miranda, the daughter of Prospero, is the kind of girl who would have been sort of a goth in the nineties – I try and place my characters stylistically somewhere in our cultural canon. Which I then mix in with all my research and ask, "What's our crazy beautiful poetic world like?" and then marry it with, "Where do her clothes come from?"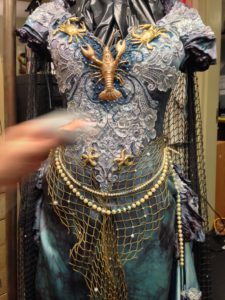 St. Martyrbride, photo by Paloma Young
BROAD STREET: I'm fascinated by artists who draw inspiration from media outside the one they're working in. Can you think of any examples, specifically with this Tempest production, of a costume choice that was made for a specific reason relating to the music?
YOUNG: What's so wonderful about both Waits and Shakespeare is that they use really strong imagery, and Waits especially resonates with me because he's so careful to describe what his subjects are wearing with a few spare but incredibly evocative words: I often wonder if my career path was guided by my years-long wondering what a "Paladin's hat" was! So the trick from there is mashing them together: What would these Italian lords be [wearing] if they lived in a smoky bar where Tom Waits played the piano?
One of the very clear examples, which I know would not otherwise be in the show, even if I had been given the direction of "This is a traveling magician's show from the thirties, forties, American Dust Bowl," is in the character of Miranda. There's a point at which she emerges in what's written as a wedding dress, and she's presented to be married off to her husband-to-be, Ferdinand. The dress itself is very classical–that was informed more by the research of actual old magicians' posters of levitations, very Grecian-feeling–but in her hair she has these deep red roses, which are not particularly sweet or young or wedding-like, and are not from the research photos.
That is definitely from the Tom Waits world. He talks about red roses a lot, he talks about blood a lot–you know, everything's sort of dirty and smoky and bloody. So I wanted to have these really stark red roses just to match the tone of the piece as these musicians are playing this love song. His love songs are very dirty. Not in a sexy, sexual way, but there's literally a tone. They're scratchy.
BROAD STREET: What are some of the other sources you use for inspiration? And what do you do once you have all these lists and ideas?
YOUNG: I try and go spread my net as wide as possible. I certainly borrow from fashion. And I look at contemporary artists, and museums. There are a lot of great contemporary photographers that do surrealistic, sort of poetic imagery. I often look at old books. I read this old book from 1905 about how a magician should dress. And the pictures are not even that great; it's about the language, the formality.
Also, I love Flickr. People are using it to share photos with their families and they leave it open to the public, so I will type in, "Mom, 1965," or "Mom, New Jersey, 1947," and all of these wonderful, non-professional snapshots will pop up. I love the way the internet has opened up strangers' photo albums.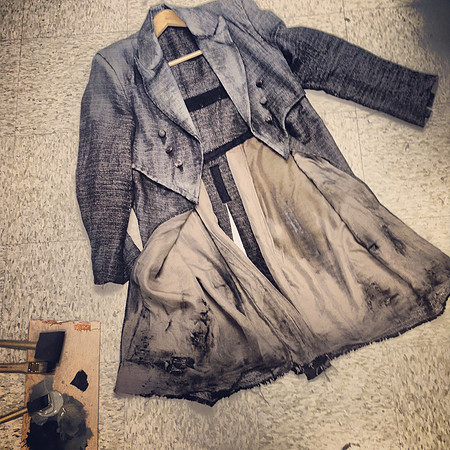 Prospero coat in process. The Tempest by William Shakespeare. Directed by Aaron Posner and Teller. Costume by Paloma Young.  
BROAD STREET: Elsewhere, you've described your aesthetic as one that is grounded in the idea of found objects. Where do you find this stuff? Do you end up taking apart things that you find online and reassembling them, Frankenstein-style?
YOUNG: I've gone to flea markets and vintage stores. And the internet has really grown into this great resource – eBay and Etsy. All these people cleaning out their basements, thousands of miles away from me, are now a really easy resource for me.
Sometimes I'm Frankenstein, sometimes I'm handing research and fabric over to a draper or tailor. I don't sew things myself – I'm pretty lousy at it, which is why I have such respect for the artisans who do work on my designs. Great costume makers have had years of training in pattern making and historical technique. We sit down and have conversation about each piece that they're making, and they offer suggestions to improve on the design based on their knowledge and experience. A good tailor could make you a 1930s tailcoat with very little direction, and a great tailor can make you a 1930s tailcoat modified to protrude in the back like grasshopper thighs – if that's what you want.
BROAD STREET: How does working with a budget affect the decisions you make about a design?
YOUNG: Like everything, you get what you pay for. If you want something custom, you will either pay a couple hundred dollars to a stitcher who is not trained or skilled who will make you something lumpy and ill-fitting, or you will pay thousands of dollars for a single piece that is immaculate and flattering and perfectly sewn that will last for hundreds of performances. Buying used, vintage, or new discount clothing and altering it is something that every designer does to save money in some places so he or she can spend it where necessary in others.
Recently, I had to make a costume for a character called St. Martyrbride that was something like a cross between a mermaid, a bride, and a Catholic saint on acid. We bought a fifty-dollar used wedding dress from a women's charity. Then we tie-dyed it and added plastic creatures and some thrift-store plastic necklaces. We used a gold plastic party platter from Party City as the crown. From scratch, including labor, this would have cost near five thousand dollars. Factoring in labor for our Frankenstein version, it was well under five hundred.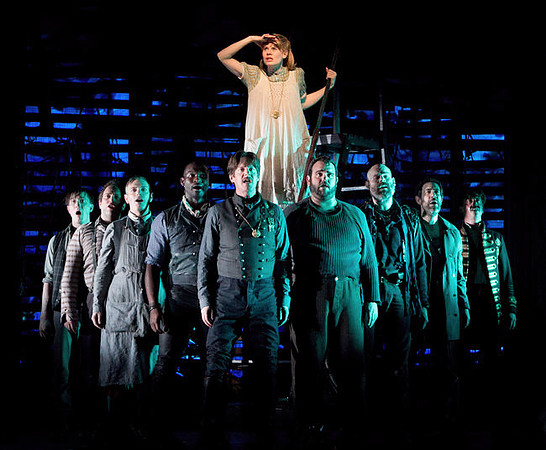 Peter and the Starcatcher by Rick Elice. Directed by Roger Rees and Alex Timbers. Costumes by Paloma Young. 
BROAD STREET: In your Tony acceptance speech for the costume design of Peter and the Starcatcher, you thank your father for giving you a love of storytelling. How did he inspire you to become an artist?
YOUNG: I was more or less raised by my single father, which was unusual at the time that I was a child, which was the early eighties. My father is also sort of a strange person, and we were socially isolated wherever we were, and so it was sort of my father and me against the world.
He read me stories, and he would also make up stories, and so I had a love of traditional fairy tales, folktales from around the world; and then my father would also take elements that were around us, like the trees in our yard, or the neighbors, or my dog, and slightly changed the names, making new stories out of them, cobbling them together, and that was very empowering – the idea of taking these things that were around me, and being able to shape a story out of them.
I think that that is the way I design, in that I don't like starting from scratch. I don't like to make a drawing and then just hand it to someone and have that person make what's on the page.
I like to feel like the costumes have come from places.

True stories, honestly.