"The poem felt so right to me that I decided to take my research, add to it, and write poems and creative nonfiction about my ancestors…"
Castle's new series digs deep into her family's past for historical persona poems. A poem and related archival materials will appear on BROAD STREET's site every Friday till the end of 2018–inspiration for anyone on a quest of their own.
Read "An Account of a Poor Oil Stove Bought Off Dutch Pete" here.
Series Introduction by Luanne Castle
When I was a college student studying history, I became fascinated by the stories of individual people and communities of the past. I began my research in 1976 at the local cemeteries in Kalamazoo, where I had grown up and where my mother and her father and his mother had all been born and lived.
My interest in my family had begun years before, at my grandparents' house. My grandmother watched me after school while my mother worked as a secretary, and when my grandfather came home from the Sunoco Station he owned, he would tell me stories about the family until my mother got off work and came to pick me up. I loved listening to the loving way he described the characters.
When my grandfather heard about my interest in local and family history, he invited me over and shared boxes of antique and vintage photographs and glass negatives. Many of the non-portrait shots and negatives were taken by his uncle Joseph DeKorn.
Grandpa and I spent many hours going through the images. He identified individuals as well as he could and told me stories about many of them. Because his ancestors were all originally from the Netherlands, he also passed on stories from the "old country" to me. For instance, his uncle, Lucas Zuijdweg, had died by being skewered by a ship anchor at age twenty-one in the Netherlands. For years that was all I knew about Lucas. Since genealogical research had to be done in person in those days, my college research was more centered on the general history of Kalamazoo.
Once I graduated, I became busy with the next phase of my life. I had already married my high school sweetheart during college, and we opened a small retail store in Kalamazoo that sold women's accessories. I started, but did not complete, a master's in history. After my husband and I adopted our first child from Korea, I began writing poetry in earnest and began the MFA program in creative writing at Western Michigan University. Eventually we moved to California where I attended the University of California, Riverside, and earned my PhD in literature.
My grandfather donated many of his photographs to the archives at Western Michigan University. He also gave me two antique albums, a box of photos, and another box of glass negatives. I stored them away for a long time, but the people in the photos and their untold stories nagged at me.
Above: Lucas Zuijdweg, who died tragically at sea.
When my kids went away to college, I joined an online genealogy site and got my first taste of how much easier such research had become in recent years. I learned how to find records online through various databases. I ordered birth, marriage, and death certificates from county clerks and searched immigration records. I began to put the faces on the photos where they belonged on my growing family tree. Since the Netherlands has a complete set of records online from the past two hundred years and earlier, I discovered Lucas Zuijdweg's death record and found where his died, as well as the exact date. But it was Grandpa's story that tells me how Lucas passed away, as Dutch records do not list cause of death.
The project exploded when I started a family history blog called thefamilykalamazoo.com. Through this site, I have been contacted by "cousins" from the Netherlands and relations in the United States.
Genealogists have provided me with valuable data. I've been sent digital photos from the Netherlands of family members, family Bibles, letters, and other precious documents. A stranger from Washington sent me a photo album of my family that her father had happened to find and safeguard for decades.
At the same time, family members I've known all my life keep discovering other photo albums and family heirlooms and sending them to me. The more information I receive and process, the more blanks on the family tree I can fill in. I've been able to label photographs that Grandpa wasn't able to identify.
For years, my research went on a parallel path with my creative writing. Genealogy suited me in the same way that literary research had suited me throughout my PhD studies and beyond. Writing poetry and stories was art, to my mind. I didn't imagine research and creative writing coexisting in harmony. But my family kept trying to edge itself into my poetry.
Finally, I just went with the impulse and wrote a poem about my great-grandmother. The poem felt so right to me that I decided to take my research, add to it, and write poems and creative nonfiction about my ancestors — especially the women who, in historical archives, often involuntarily hide behind their husband's names and occupations. Those poems and stories led to my 2017 chapbook collection, Kin Types.
Editors' note: You can find out more about Luanne's methods of researching her family history on her blog thefamilykalamazoo.com.
****************************************************************************************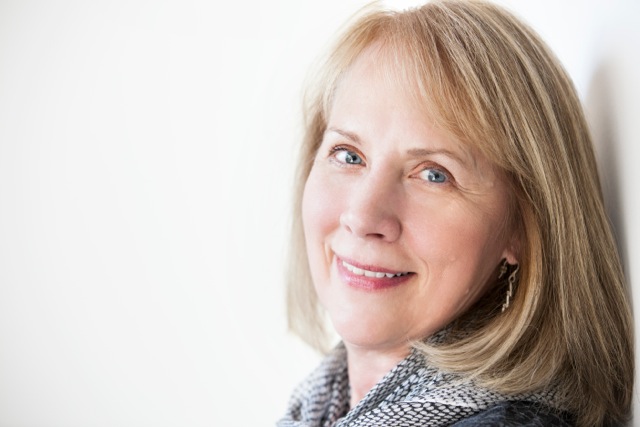 Luanne Castle's Kin Types (Finishing Line Press), a chapbook of poetry and flash nonfiction, was a finalist for the 2018 Eric Hoffer Award. Her first collection of poetry, Doll God, winner of the 2015 New Mexico-Arizona Book Award, was published by Aldrich Press. Luanne has been a Fellow at the Center for Ideas and Society at the University of California, Riverside. She studied English and Creative Writing at the University of California, Riverside (PhD); Western Michigan University (MFA); and Stanford University. Her poetry and prose have appeared in Copper Nickel, Verse Daily, Lunch Ticket, Grist, River Teeth, The Review Review, Phoebe, and other journals. Luanne reviews for Main Street Rag and elsewhere. She divides her time between California and Arizona, where she shares land with a herd of javelina. Her heart belongs to her six cats and the homeless cats at the animal shelter where she volunteers.
More on Kin Types
Kin Types, published in 2017 by Finishing Line Press, is a collection of lyric poetry, prose poetry, and flash prose that imaginatively retells the lives of private individuals from previous generations. Using family history research, Luanne has reconstructed the stories of women and men from Michigan to Illinois to the Netherlands. Read together, the pieces create a history of women dealing with infant mortality, vanity, housewife skills, divorce, secret abortion, the artist versus mother dilemma, mysterious death, wife beating, and a brave heroine saving a family's home.
*****************************************************************
Like what you've read here? Then  be sure to check back on Fridays for new installments in the series.