Celebrate National Poetry Month with this broadside from our latest issue, "Rivals & Players." Or scroll down to read the poem in plain format.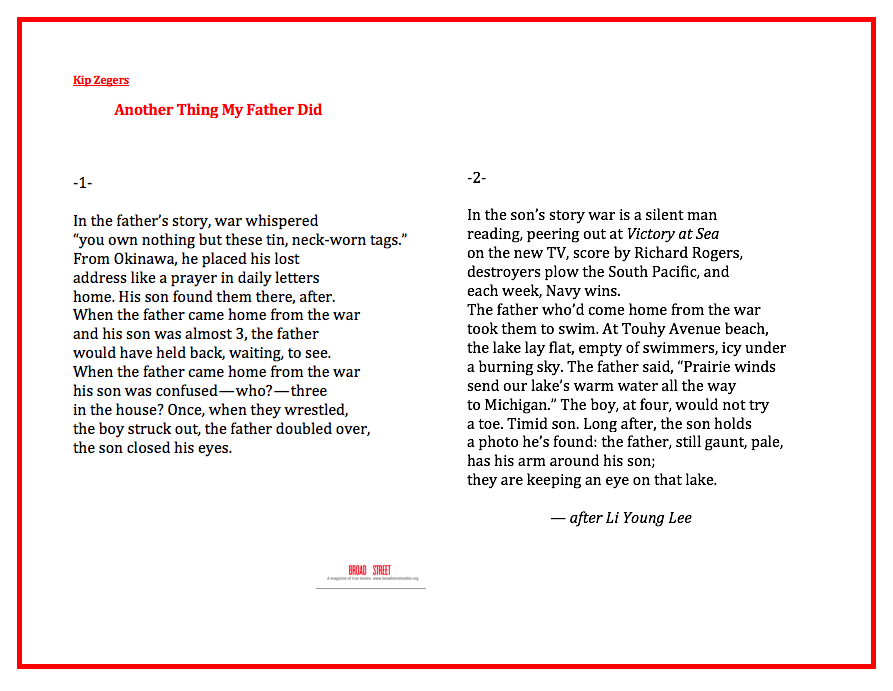 Another Thing My Father Did
Kip Zegers
-1-
In the father's story, war whispered
"you own nothing but these tin, neck-worn tags."
From Okinawa, he placed his lost
address like a prayer in daily letters
home. His son found them there, after.
When the father came home from the war
and his son was almost 3, the father
would have held back, waiting, to see.
When the father came home from the war
his son was confused - who? - three
in the house? Once, when they wrestled,
the boy struck out, the father doubled over,
the son closed his eyes.
*
-2-
In the son's story war is a silent man
reading, peering out at Victory at Sea
on the new TV, score by Richard Rogers,
destroyers plow the South Pacific, and
each week, Navy wins.
The father who'd come home from the war
took them to swim. At Touhy Avenue beach,
the lake lay flat, empty of swimmers, icy under
a burning sky. The father said, "Prairie winds
send our lake's warm water all the way
to Michigan." The boy, at four, would not try
a toe. Timid son.
                        — after Li Young Lee
********************************************************************
Kip Zegers's book, The Pond in Room 318,was published by Dos Madres, and he has written about poetry and and about speaking truth to power for The English Journal.