Oh, do we have issues for you …
From the smallest, most devilish topic to the most legendary moments and places, our contributors travel the world and gather up truth.
Click on each title for a sampler of the offerings in the issue. And remember you can purchase a print copy of all but our sold-out first issue here. "Small Things, Partial  Cures" is also available as an iBook. "Rivals & Players" marks a switch to online-only format; its entire contents are here for you to read.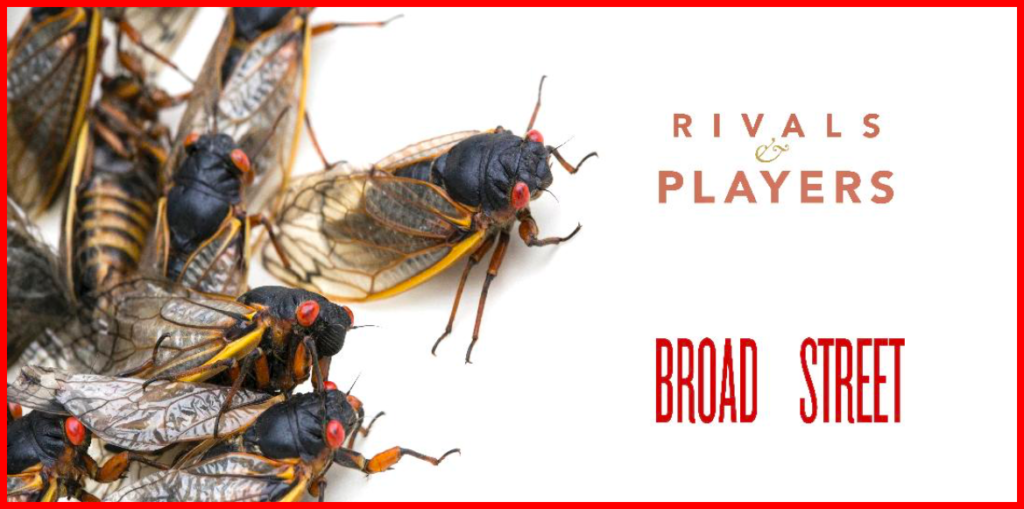 Our winter 2019 issue features lovers, fighters, warriors, war reenactors, ad men, insects, and neighbors. Do we play the game, or does the game play us? What do we get when we spin Fortune's wheel? Who's watching, anyway — and when are they coming for us?
This is our first-ever online-only, totally free-to-read issue. Featuring new work by Michael Griffith, Lise Haines, Chad Hunt, Colleen Curran, Barbara Daniels, Jed Myers, Ron Smith, Emily Woodworth, Kip Zegers, C. Wade Bentley, Mary Quade, Jonathan Fink, Peter Stine, Robert Farrell, Terry Minchow-Proffitt, Katharine Haake, Gunver Hasselbalch, Ron Block, and Cynthia Kolanowski.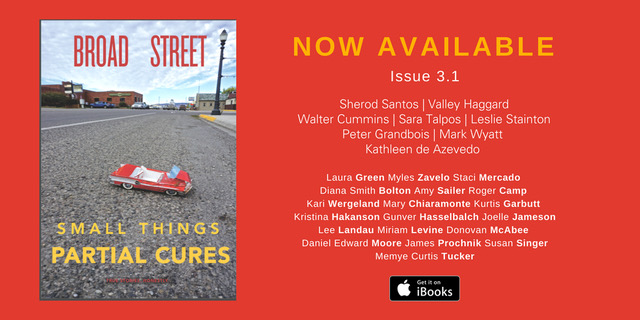 3.1 "Small Things, Partial Cures," summer 2018.
It might be the smallest things that move us most. They're what hold our focus when the big things — call them God or History — overwhelm. We're composed of tiny atoms, sure, and in ourselves we contain millions; within those millions, we're prey to pain both physical and emotional, for which the cure is partial at best…. Our latest issue (super-sized) features great new work by Sherod Santos, Leslie Stainton, Walter Cummins, Sara Talpos, Peter Grandbois, Valley Haggard, Staci Mercado, Mark Wyatt, Diana Smith Bolton, Kathleen de Azevedo, Gunver Hasselbalch, James Prochnik, and many more writers and visual artists who share their pain and offer at least a partial cure for what ails you too.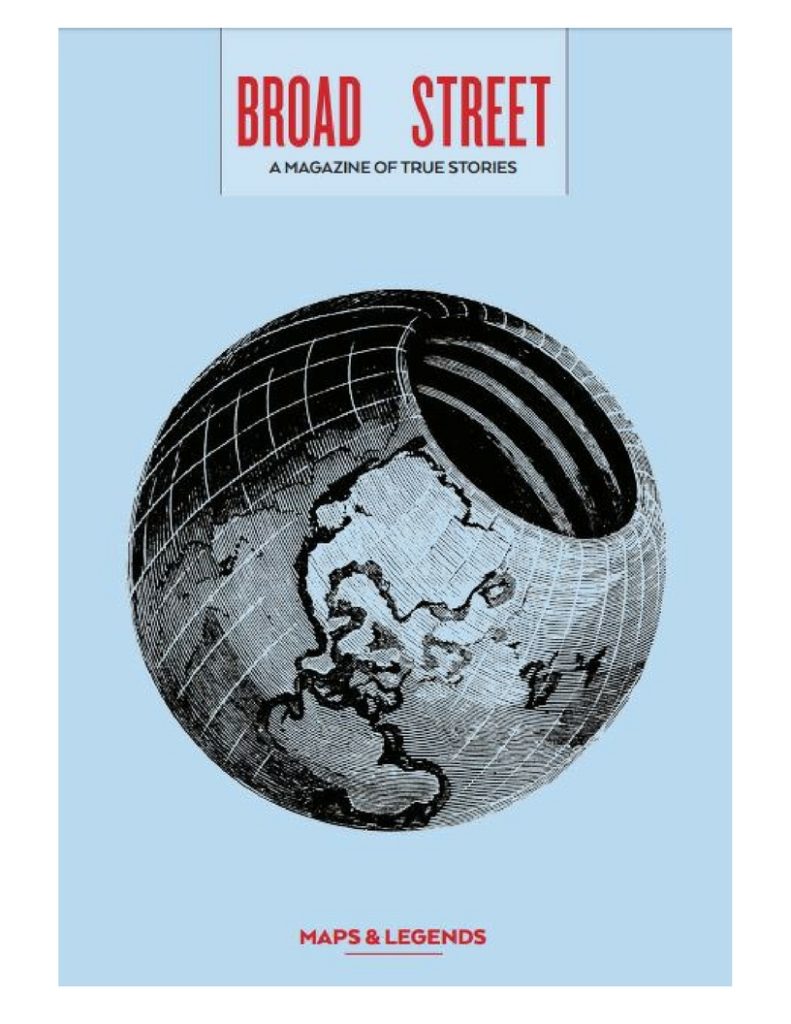 2.2 "Maps & Legends," summer 2016.
Encounter the South-glancing Fitzgeralds and find their very first gravesite with Bryant Mangum and friends. Travel with Bea Chang down rivers in over fifty lands. Experience Chinese revolutions both Cultural and capitalist, Deborah Jiang-Stein's look into prison heroin experiments on her mother, and Ron Smith's poem about the courtship of George Washington. Careen through three centuries on a single block of a Broad Street in Richmond, Virginia. Dream your way into an interview with TyRuben Ellingson, cinematic effects artist who has helped create the geography of legendary films such as Avatar.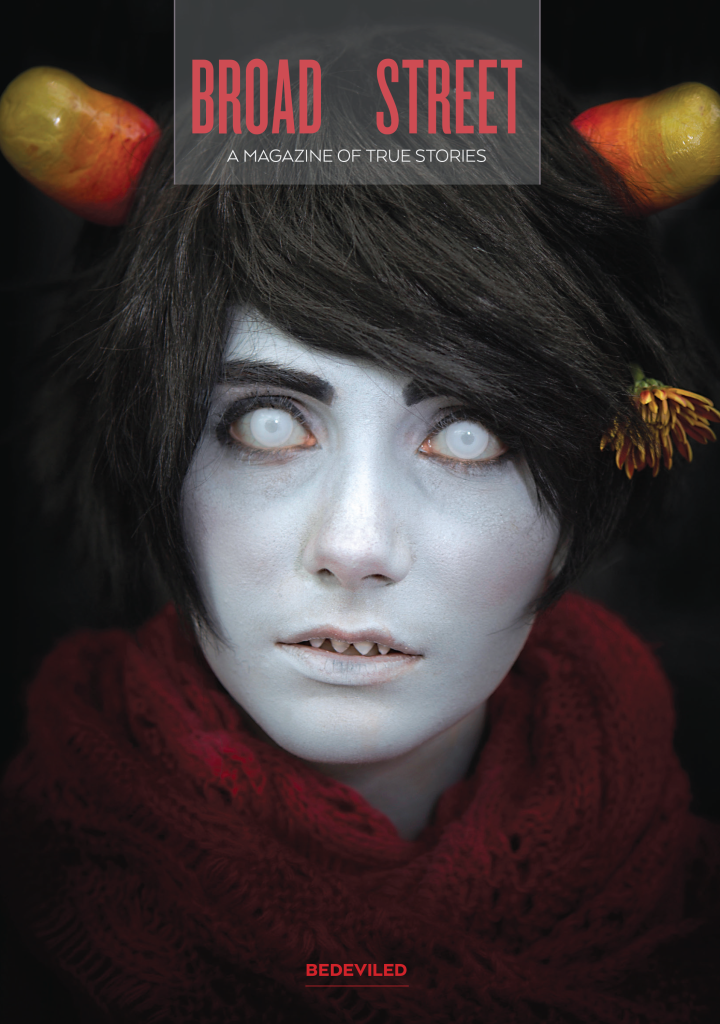 2.1 "Bedeviled," spring 2015.
Once devils lived in everything. They lurked in trees, hid in ponds, crept through forests, hexed our crops, sickened our livestock and our children, cursed our limbs so they withered. They brought down fires and illness and disappointments of all sorts. We set out gifts for them: bowls of milk, or an extra plate at mealtimes, or leaves bundled just so, the way they liked them. Now our devils are likely to be found in Glenn H. Shepard's pipe of hard snuff or bowl of ayahuasca, the eerie symmetry of a forest photograph, the sublime experience of watching experimental dance, Alan Cheuse's anger over a bridge closing, or D. J. Lee's adolescent encounter with trouble next door.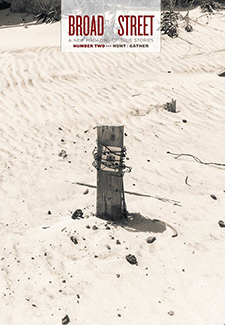 1.2 "Hunt, Gather," fall 2014.
With our second issue, Broad Street strolls through the lists, images, and storytelling of modern hunters and gatherers, from Michelangelo's shopping list to the community of icy Barrow, Alaska, and a holy war during a Senegalese Ramadan; on to Tony-winning costume designer Paloma Young and her mashup method and sculptor Daniel M. Krause's way with a welder. We invite you to collect from our pages what will sustain you.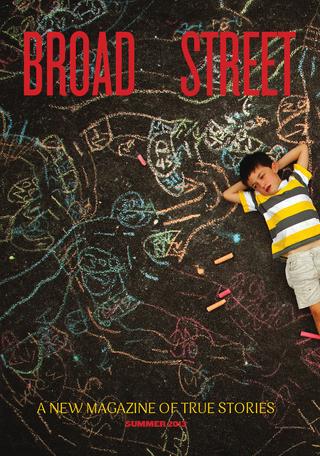 1.1 "Dangerous Territory," fall 2013.
Step into it with our very first issue, featuring Robert Alter's new translations of Yehuda Amichai's poetry; a memoir by Tama Janowitz; Paisley Rekdal on murder in Salt Lake City; Susann Cokal on Barbie, Midge, Mattel, and female friendship; Chad Hunt's photo essay about soldiers during and after deployment in Afghanistan; and an in-depth interview with Jeanette Winterson.
True stories, honestly.
Bee photograph by Chad Hunt.