"Classifications matter. Memory, by nature, is rebellious…"
… and so is Kat Meads's narrator as she looks at the family house she and her brother are abandoning.  Read Kat's Pushcart-nominated lyrical essay from our "Maps & Legends" issue here, with artwork by Masa Inoue, or enjoy the large-print version below.  Then visit with the author by reading her Truth Teller Spotlight, which includes news about her just-published seventeenth book, which we've excerpted online.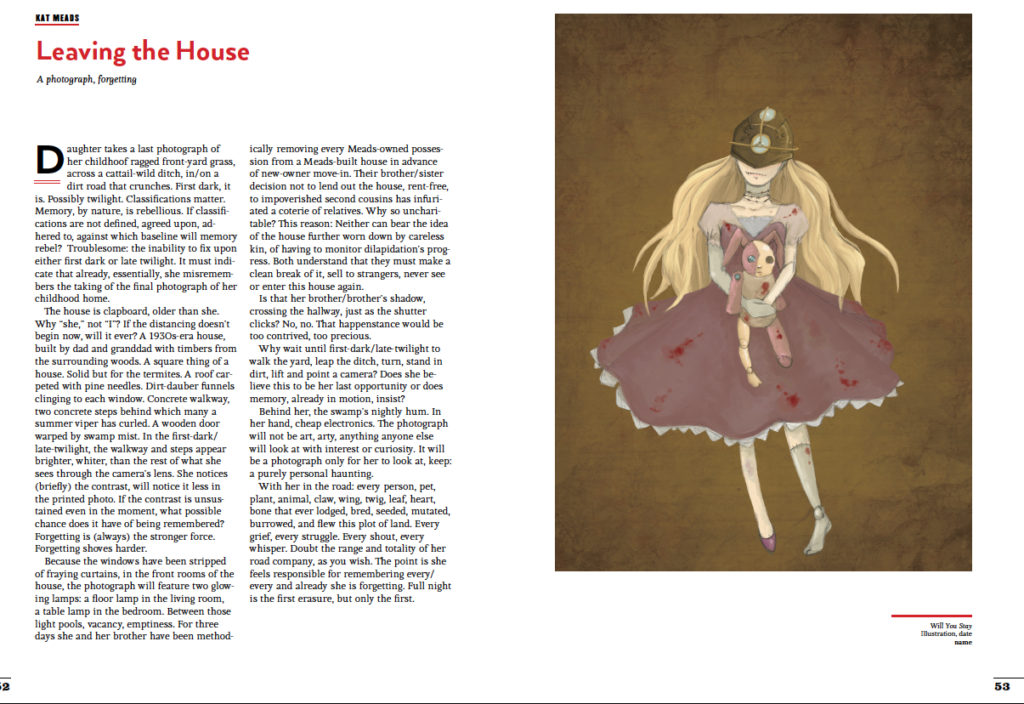 Leaving the House
A photograph, forgetting.
Kat Meads
Daughter takes a last photograph of her childhood home at first dark. From where, exactly? South of ragged front-yard grass, across a cattail-wild ditch, in/on a dirt road that crunches. First-dark, it is. Possibly twilight. Classifications matter. Memory, by nature, is rebellious. If classifications are not defined, agreed upon, adhered to, against which baseline will memory rebel? Troublesome: the inability to fix upon either first-dark or late-twilight. It must indicate that already, essentially, she misremembers the taking of the final photograph of her childhood home.
The house is clapboard, older than she. Why "she," not "I"? If the distancing doesn't begin now, will it ever? A 1930s-era house, built by dad and granddad with timbers from the surrounding woods. A square thing of a house. Solid but for the termites. A roof carpeted with pine needles. Dirt-dauber funnels clinging to each window. Concrete walkway, two concrete steps behind which many a summer viper has curled. A wooden door warped by swamp mist. In the first-dark/late-twilight, the walkway and steps appear brighter, whiter, than the rest of what she sees through the camera's lens. She notices (briefly) the contrast, will notice it less in the printed photo. If the contrast is unsustained even in the moment, what possible chance does it have of being remembered? Forgetting is (always) the stronger force. Forgetting shoves harder at a being.
Because the windows have been stripped of fraying curtains, in the front rooms of the house, the photograph will feature two glowing lamps: a floor lamp in the living room, a table lamp in the bedroom. Between those light pools, vacancy, emptiness. For three days she and her brother have been methodically removing every Meads-owned possession from a Meads-built house in advance of new-owner move-in. Their brother/sister decision not to lend out the house, rent-free, to impoverished second cousins has infuriated a coterie of relatives. Why so uncharitable? This reason: nNither can bear the idea of the house further worn down by careless kin, of having to monitor dilapidation's progress. Both understand that they must make a clean break of it, sell to strangers, never see or enter this house again.
Is that her brother/brother's shadow, crossing the hallway, just as the shutter clicks? No, no. That happenstance would be too contrived, too precious.
Why wait until first-dark/late-twilight to walk the yard, leap the ditch, turn, stand in dirt, lift and point a camera? Does she believe this to be her last opportunity or does memory, already in motion, insist?
Behind her, the swamp's nightly hum. In her hand, cheap electronics. The photograph will not be art, arty, anything anyone else will look at with interest or curiosity. It will be a photograph only for her to look at, keep: a purely personal haunting.
——–
With her in the road: every person, pet, plant, animal, claw, wing, twig, leaf, heart, bone that ever lodged, bred, seeded, mutated, burrowed, and flew this plot of land. Every grief, every struggle. Every shout, every whisper. Doubt the range and totality of her road company, as you wish. The point is she feels responsible for remembering every/every and already she is forgetting. Full night is the first erasure, but only the first.

SaveSave