"A powerful and heartrending  story of personal recovery."
​—Kirkus Reviews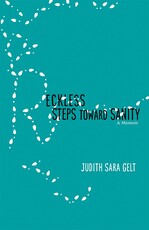 Judith Sara Gelt's essay "A Pious Fraud" appeared in our very first issue, Dangerous Territory. Now her memoir, Reckless Steps Toward Sanity, has been published by University of New Mexico Press.
We'll let the publisher describe it:
At sixteen Judith Sara Gelt finally rebels after spending years watching her warm, Jewish home in Denver disintegrate. It's 1968 and bipolar disorder has been ravaging her mother and has sent her father, a powerful attorney, into a spiteful tailspin. To escape Gelt makes one perilous choice after another, and these decisions carry her unprepared and alone, into a world that is sometimes cruel and often dangerous. After returning to Denver, she works to understand her parents and her past, and she is surprised to discover her own strengths.

Throughout her memoir, Gelt reflects upon how risk taking has shaped her relationships with and her attitudes toward men and sex, Judaism, becoming the mother of a daughter, and her own eventual diagnosis of major depressive disorder.
Reviews and blurbs have been stellar:
"With its vivid prose, Gelt makes real for us a childhood fraught with family, societal, and sexual tensions while providing hope as she makes a brave journey toward understanding and healing."
—Sonja Livingston, author of Ghostbread
"In Reckless Steps to Sanity, Judith Sara Gelt does what the best memoirists do. She makes her experiences, her losses, her life mean something to us. What I can only describe as an honest bravery, she opens up her story and allows us entry, where we not only find her story but also discover our own."
—Joe Mackall, Co-editor of River Teeth: A Journal of Nonfiction Narrative, and author of The Last Street Before Cleveland
"If you're like me and enjoy looking in the windows of other families, this book is for you. Judith not only pulls back the curtains, she invites you in and offers up a cup of tea and a comfortable seat."
—Mom Egg Review
"An inherently interesting, exceptionally well written, and impressively candid memoir."
—Midwest Book Review: Wisconsin Bookwatch
"Like Mary Karr's Liar's Club…[Gelt] wrestles with a father's cruelty… But Gelt's story expands to the wider world …."
—River Teeth—A Journal of Nonfiction Narrative
"Gelt tells her story with clarity, presenting a complex and bittersweet storyline."
—Billings Gazette 
Listed:
Better with Books: 500 Diverse books to Ignite Empathy and Encourage Self-Acceptance in Tweens and Teens
—NEW PAGES
Congratulations from Broad Street, Judith!